Happy Holidays from KinkyTofu. Many thanks to Mrs Feendish & anne Omalley for their fine artwork on b-kinky.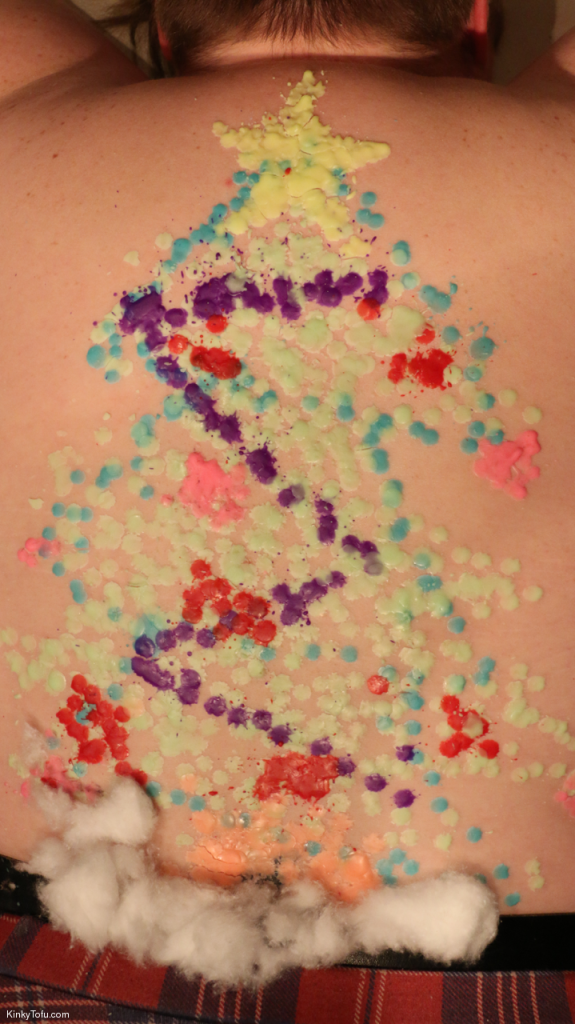 Perverts, fetishists, and bondage enthusiasts are people too. Online voyeurism shields us from day jobs, families, and many other distractions outside of kink. But a few months ago, we spent a full weekend with this girl and Grimly. Even with a Friday arrival and Monday departure, we only managed 2 or 3 hours of actual bondage! Some would measure the brevity as a failure, but by our own metrics we had an awesome and inspiring visit. Who cares about torture time, when ideas can be exchanged to execute back home without any time restraints (pun intended).
It's difficult to capture the geekiness that resulted when proud perverted couples "talk shop" amongst themselves. Heckling about meat eaters, programming languages, e-stim box size, gas mask collections, and much more filled our weekend. We had the pleasure of meeting the couple behind jlatex (of BoundInLatex.com fame) and anne_Omalley during this short jaunt too.
B got to try a vacbed for the first time ever; I'm a bit too claustrophobic for a full-body version myself – maybe a neck gasket model would work better for us both. Grimly, as always, is an excellent guru: not only assembling the bed quickly but also talking through various safety precautions. B reported falling "instantly into headspace" due to the lack of senses, where breathing was the primary – if only – focus for her encased latex body. Apparently she enjoyed the experience enough to start lusting after Kink Engineering designs a few days later!
The famous Feendish dungeon is full of too many toys to explore, though, including antique violet wands.
And during a short "photo shoot", a number of DIY and home built kit was hauled out for "props". A vintage electric shaver turns into a very affordable Eroscillator knock-off, where the loud buzzing adds an audible torture aspect.
I also really enjoyed "guys time" with Grimly, who walked me through the Locked for Infinity workspace. It's clear the L4I product vision is rooted in safety, quality, and practicality.
Ironically I'm writing this post on a daylong train ride – thousands of miles away from both Scotland and America. Finding time to chronicle our own adventures is best done in dramatic landscape changes, where distractions are minimal – thanks to nonexistent data coverage.
We look forward to seeing the gang from Scotland again soon… hopefully next time for a fortnight!
Towards the end of last year M and I had the opportunity to visit this girl and Grimly for more than just the couple of hours our first visit with them afforded us. While in town, we visited a local fetish fair (which Locked For Infinity had a stall at), as well as had the opportunity to meet the lovely folks behind Bound in Latex. We had a really brilliant time.
I also had the opportunity to try out a vacbed for the first time. I can see why some people might not enjoy them, but personally, I absolutely loved it. It was very intense, all-encompassing, and got me into headspace pretty much instantly. The combination of latex and bondage that it provides is a real treat!
While there we also had the opportunity to see some playspaces, and one thing we found particularly funny (and also were jealous of!) were the gasmask collections. M and I are up to about 6 gasmasks between the two of us after our trip to Berlin, but that's nothing compared to the collections we saw.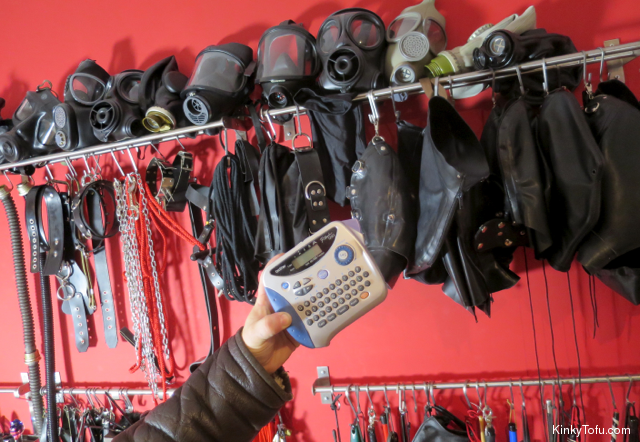 Also, we really appreciated the attention to detail and nerdy organization of folks… but I also suppose with that kind of collection, it's mandatory!
Overall it was one of the most fun weekends we've had, just hanging out with other kinky folks and geeking out over a variety of topics (kinky and non-kinky). Hopefully we'll have the opportunity for more weekends like that this coming year.